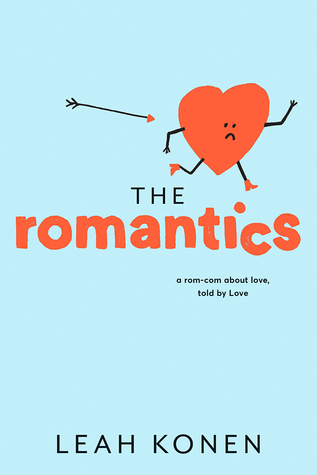 Perfect for fans of Lauren Myracle and Rainbow Rowell, The Romantics will charm readers of all ages. Gael Brennan is about to have his heart broken when his first big relationship crumbles on the heels of his parents' painful separation. Love intervenes with the intention of setting things right—but she doesn't anticipate the intrusion of her dreaded nemesis: the Rebound. Love's plans for Gael are sidetracked by Cara, Gael's hot-sauce-wielding "dream girl." The more Love meddles, the further Gael drifts from the one girl who can help him mend his heart. Soon Love starts breaking all her own rules—and in order to set Gael's fate back on course, she has to make some tough decisions about what it means to truly care.
Maybe this book is cliche, but this is exactly what Konen was aiming for. She has literally lampshaded so many YA tropes and made it work. She takes a boy (a real Romantic), a Rebound and the Right Girl and plays them together, having Love narrate it all so we know all the way through this book which way it has to go. On paper this may seem like it wouldn't work, but it was absolutely perfectly executed and I honestly cannot stress how well this was done.
I loved all of the characters in this book - Gael seemed a little weak to start with but by the end of the book he had found direction and knew what was right, so I loved that. Sammy was just absolutely perfect - the college girl babysitter that Gael should be with. Even Cara was well written and then there's Anika, Gael's ex who I despised but in the best possible way.
The best part of this book is the writing though, Leah Konen wrote a brilliant book but the voice that she gave to our narrator was so witty and dry. Sarcasm reigns, and there were some amazing quotes in there - this is sole reason to read this book if nothing else.
Overall, The Romantics was a well written and very entertaining book with clever characters and amazing dialogue.
Book released 1st November Amulet Books
Book received from the publisher/author in exchange for an honest review