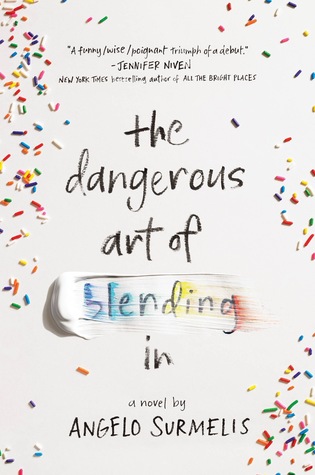 Seventeen-year-old Evan Panos doesn't know where he fits in. His strict Greek mother refuses to see him as anything but a disappointment. His quiet, workaholic father is a staunch believer in avoiding any kind of conflict. And his best friend Henry has somehow become distractingly attractive over the summer.

Tired, isolated, scared—Evan's only escape is drawing in an abandoned church that feels as lonely as he is. And, yes, he kissed one guy over the summer. But it's his best friend Henry who's now proving to be irresistible. It's Henry who suddenly seems interested in being more than friends. And it's Henry who makes him believe that he's more than his mother's harsh words and terrifying abuse. But as things with Henry heat up, and his mother's abuse escalates, Evan has to decide how to find his voice in a world where he has survived so long by avoiding attention at all costs.
I so wanted to enjoy this book more than anything. The premise - a confused boy struggling with abuse - sounded so interesting and heartbreaking so I opened this book expecting my heart to break. It didn't.
It sounds awful to say this, but I feel like the way Surmelis wrote Evan and his romance with Henry was too heavy-handed. In fact, I might even go as far as to say it's almost dangerous. Let me remind you that abuse is not romantic, it's not something you can just fix with a kiss and it goes away. Evan has had a tramatic childhood, and in barrels his friend Henry with his obsession with Evan, and he barely gives the boy time to breathe. Henry has moodswings that are almost scary, and whilst sometimes he has his moment, I just kept thinking that I can see no way that Evan is going to come out of the other end of this any less broken than he was at the start of the book.
Now that I have that off my chest, I'll elaborate a little more on why this book did not work for me.
When I first started reading YA books, I was in my early teens and all-consuming romance plots seemed great for me. Now, ten years down the line I am twenty-six years old and as much as aI still love true love and whatnot, I hate seeing a character who is nothing woithout it. This whole book was for me about how his budding relationship was going to heal Evan, his entire development was based on that.
It's annoying because this book had so much more potential.
I'm sure younger readers may not see the same issues that I saw - I am well aware that I am now growing out of the target audience for YA novels and my opinions may differ from that demographic - but for me, this book just didn't hit the spot, I'm afraid.
Book released 30th January 2018 by Balzer and Bray
Book received from the publisher/author in exchange for an honest review