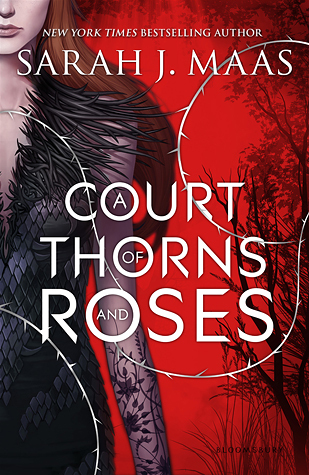 When nineteen-year-old huntress Feyre kills a wolf in the woods, a beast-like creature arrives to demand retribution for it. Dragged to a treacherous magical land she only knows about from legends, Feyre discovers that her captor is not an animal, but Tamlin—one of the lethal, immortal faeries who once ruled their world.

As she dwells on his estate, her feelings for Tamlin transform from icy hostility into a fiery passion that burns through every lie and warning she's been told about the beautiful, dangerous world of the Fae. But an ancient, wicked shadow grows over the faerie lands, and Feyre must find a way to stop it . . . or doom Tamlin—and his world—forever.
Dude. DUDE!
This book though! This book!!!
Sarah J. Maas's world must have turned on it's head when the amazing Throne of Glass series got as big as it did, and rightly so. In a world where the YA market is saturated with fantasy books which are honestly a little bit meh, this author is one that brings back the magic that made authors like Robin McKinley and Kristin Cashore and Maria V. Snyder as great as they were. Sarah Maas just has this fantastic way of building a world and characters that we really care about. From step one of this book I loved Feyre and that is the key for me. I cared about her future and her love life and what she goes through. She was such a strong independant character but she is thrown into this world where that isn't enough.
Enter Tamlin, a high fae that made me swoon and urgh and mmmm! In his fae form he is a handsome man with a mask covering his face - the result of an awful curse on his world - but he can transform into a beast and beastly men make me go phoar. The love story, for once, is a simple progressive one where you get to see it develop on both ends. It was magic, and whilst the love triangle is there in the latter part of the book, it didn't bother me too much because Tamlin is perfection and there is sexy-times and Feyre and Tamlin forever.
The plot of this isn't altogether very original, it is a spin on the story we see in a lot of fairy YA books, but Maas's writing is so fantastic that it doesn't feel like you're reading the same book again. Man, this woman can write.
Do you see that I am absolutely typing diarrhoea over this book? This was a book that made em melt and gasp and awe, and whilst maybe it wasn't as amazing as Throne of Glass, it was definitely amazing nonetheless.
Sarah J. Maas proves over and over again how worthy she is to be known as one of this generation's queens of fantasy, and I will forever bow to her.
Book released 5th May 2015 by Bloomsbury
Book received from the publisher in exchange for an honest review