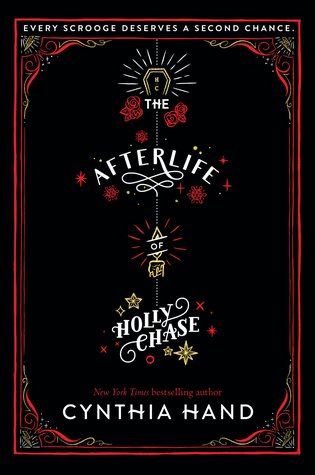 On Christmas Eve five years ago, Holly was visited by three ghosts who showed her how selfish and spoiled she'd become. They tried to convince her to mend her ways.
She didn't.
And then she died.
Now she's stuck working for the top-secret company Project Scrooge--as the latest Ghost of Christmas Past.
Every year, they save another miserly grouch. Every year, Holly stays frozen at seventeen while her family and friends go on living without her. So far, Holly's afterlife has been miserable.

But this year, everything is about to change. . . .
I liked this book. It was sassy and the voice was so true to life and young. It was full of a lot of the wit that one would expect from Cynthia Hand - one of the amazing Lady Janies - it was sometimes a little slow, but it was a fun book to read.
Or at least, the first half was.
I was so interested in this book and the story and the world building and our sassy, selfish main character that when things started to get a little bit more dramatic and life or literal death, it felt like a full turn from where we were. I kind of started to feel like I was reading a completely different book. It was still a good book and I was still completely invested in where it was going but it was just... different.
I loved the voice and the story and the character growth that we see Holly go through throughout the story, and I was crying by the end of it, so it can't have been bad. But to say that tears were shed, by the time I closed this book and moved onto the next I was sort of over it. It didn't sit with me for too long.
I'm torn and conflicted, because I want to call this book shallow and fun but it's also poignant and heartbreaking at times (like the ending) and I'm not sure where to go with this book, so I'm going to say read it. It won't blow you away, but maybe it will be a positive surprise.
Book released 24th October 2017 by HarperTeen
Book received from the publisher/author in exchange for an honest review