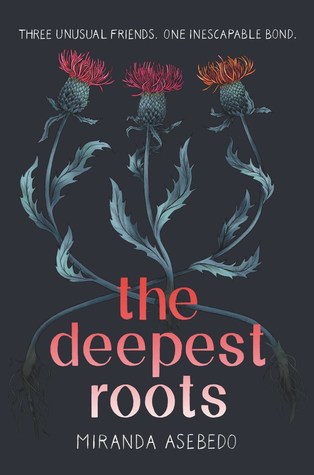 Cottonwood Hollow, Kansas, is a strange place. For the past century, every girl has been born with a special talent, like the ability to Fix any object, Heal any wound, or Find what is missing.





Best friends Rome, Lux, and Mercy all have similar talents, but to them, their abilities often feel like a curse. Rome may be able to Fix anything she touches, but that won't help her mom pay rent or make it any easier to confide in Lux and Mercy about what's going on at home. And Rome isn't the only one. Lux has been hiding bigger, more dangerous secrets.





As Rome struggles to keep her friendships close, she discovers the truth about life in Cottonwood Hollow—that friends are stronger than curses, that trust is worth the risk, and sometimes, what you've been looking for has been under your feet the whole time.
Things that I loved about The Deepest Roots:
That 'southern gothic' feel to the magical realism.

Three friends who all felt so immensely authentic and true.

A love interest who wasn't too present and didn't take over the plot.

A mystery that is engaging and thrilling and dangerous.
Things that I didn't love about The Deepest Roots:
From the first page - no, the first line - of this book, I knew that it was a winner. The writing was so matter-of-fact and real, but the plot was anything but. Asebedo manages to weave the magical parts of this book such as the book and the curse/gift with the trials and tribulations that the three girls go through so seamlessly and subtly. I just adored the way that was done.
I guess that although there is this mystery behind the diary and the history of the town, the true point of this book is the present. Rome. Lux and Mercy have such a true to life friendship - they argue and they hide things but they always support each other. The three friends has such distinct personalities - Rome is the edgy kickass one, Lux is the more vulnerable one and Mercy is the clever one yet they come together so well.
Also, I cannot write a review on this book without mentioning Jett. Jett is Rome's love interest and he is the perfect love interest for this book - he's in the background, but he's there enough that it;s sweet watching the romance grow. It's natural - no instalove here. He's supportive and not pushy and everything that Rome needed. I loved him.
Overall, The Deepest Roots is by far one of the best books I have read this year. It's most certainly the best debut. The writing was perfect, the characters were perfect, the world building was perfect. Everything was perfect.
Book released 18th September 2018 by HarperTeen
Book received from the publisher/author in exchange for an honest review