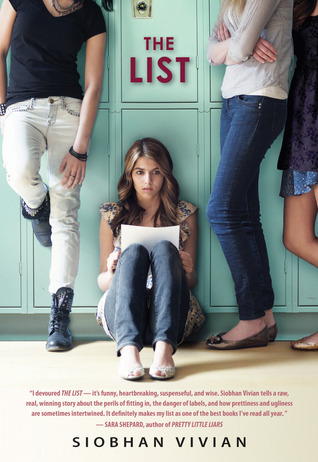 An intense look at the rules of high school attraction - and the price that's paid for them.

It happens every year. A list is posted, and one girl from each grade is chosen as the prettiest, and another is chosen as the ugliest. Nobody knows who makes the list. It almost doesn't matter. The damage is done the minute it goes up.

This is the story of eight girls, freshman to senior, "pretty" and "ugly." And it's also the story of how we see ourselves, and how other people see us, and the tangled connection of the two.
I did enjoy this take on self-worth and body image. For what it is, The List does a good job. This isn't a book making waves, its not about getting over self issues. This book is more about warping how people see themselves.
It does get a little bit confusing with all of the POVs and I did keep having to remind myself who was who because I kept getting the names mixed up. I enjoyed some people's story (Bridget, Candace and Jennifer) more than others (Sarah and Margo) but they all had their own individual points to make and I love how Vivian manages to make each character genuine and different from each other.
The story itself is well written. I felt that compulsive urge to keep reading and I really enjoyed every page of it, though I do have to say that when I finished the book i didn't feel a sense of contentment. I didn't feel like anyone's issues were resolved (see my first paragraph above - this isn't about getting over issues). I felt that this didn't quite work for me - we have anorexic characters in this book and characters that fall out and characters that dislike themselves. Of course, in life not everything is tied up with a pretty little bow, but I did feel like the book sort of trailed off. it didn't end conclusively.
Overall, The List is okay at what it does. It's well written with different dynamic characters. I did feel like something was missing throughout it though, and the ending was very 'meh'.