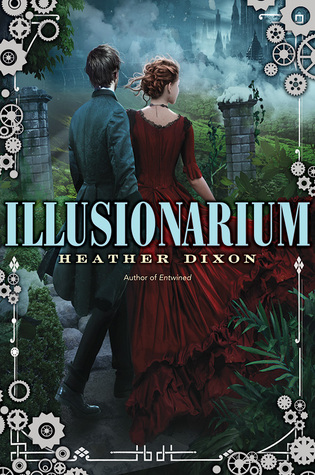 Jonathan is perfectly ordinary. But then—as every good adventure begins—the king swoops into port, and Jonathan and his father are enlisted to find the cure to a deadly plague. Jonathan discovers that he's a prodigy at working with a new chemical called fantillium, which creates shared hallucinations—or illusions. And just like that, Jonathan is knocked off his path. Through richly developed parallel worlds, vivid action, a healthy dose of humor, and gorgeous writing, Heather Dixon spins a story that calls to mind The Night Circus and Pixar movies, but is wholly its own.
I get the idea that Illusionarium is a Marmite type of book. Is that just a British reference? Errm... the general idea is that you either like it or dislike it. For me, it was the latter, but I can definitely understand why people would love it.
For me, Illusionarium lacked some serious development - things moved much faster than my brain so I spent the majority of this book trying to play catch up. The plot was great and the world building was brilliant, but there was a lot happening in a short period of time and I didn't massively like having to try and catch up and reread to find out what I had missed.
I did like the characters - Jonathan, Hannah, even Divinity, but I felt like Jonathan made silly moves at some times that made me doubt his role as the lead, and his ability to create Illusions comes out of nowhere, he was like a male Mary Sue at times.
For me, Illusionarium wasn't awful, but it wasn't anywhere near memorable for me.
Book released 19th May by Greenwillow
Book received from the publisher/author in exchange for an honest review