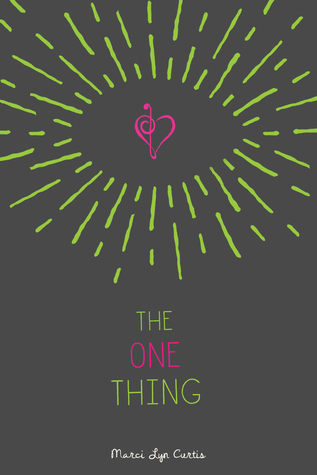 Maggie Sanders might be blind, but she won't invite anyone to her pity party. Ever since losing her sight six months ago, Maggie's rebellious streak has taken on a life of its own, culminating with an elaborate school prank. Maggie called it genius. The judge called it illegal.

Now Maggie has a probation officer. But she isn't interested in rehabilitation, not when she's still mourning the loss of her professional-soccer dreams, and furious at her so-called friends, who lost interest in her as soon as she could no longer lead the team to victory.

Then Maggie's whole world is turned upside down. Somehow, incredibly, she can see again. But only one person: Ben, a precocious ten-year-old unlike anyone she's ever met.Ben's life isn't easy, but he doesn't see limits, only possibilities. After awhile, Maggie starts to realize that losing her sight doesn't have to mean losing everything she dreamed of. Even if what she's currently dreaming of is Mason Milton, the infuriatingly attractive lead singer of Maggie's new favorite band, who just happens to be Ben's brother.

But when she learns the real reason she can see Ben, Maggie must find the courage to face a once-unimaginable future... before she loses everything she has grown to love
I'm not really sure how to categorise The One Thing - is this a book about magic (no)? Is it contemporary realism (no)... what do I tag this review with?! Let's just go with fantasy and contemporary and hope that nobody questions my decision...
I struggled with this book at the start, because I didn't know how to take it. I like things to sit in boxes and as far as genres went this book was in a non-definitive grey area. That being said, as soon as I cast this out of my mind I really started to enjoy the book. Maggie was such a great main character and whilst I had my issues with her, I did enjoy following her story. My key character, though, was Ben - he may not have spoken like a 10 year old, but he was witty and clever with the ability to become a child at times. I read this book for Ben and it was because of him that I ended this book with tears in my eyes.
Now back to Maggie - Maggie is a teenage girl, and despite the fact that she is blind she behaves exactly like a teenage girl, mood swings at all. I sweetened to her later in the book but at the start she was very difficult to connect with. I still felt iffy about her scenes with Mason towards the end (despite him being the love interest and me being a biiiiig romantic) but I'll let that pass because the story of this book is so good.
The story focuses on Maggie finding her thing - it used to be football, before she was struck down ill and became blind, now she has nothing, until she meets Ben. It's a brilliant storyline and the friendship between Maggie and Ben really made me like Maggie - that kid was a shining light that brought out the best in everyone.
It's hard for me to review the plot because it isn't a big part of this book - this is more a development arc for Maggie as a person than a story with ups and downs, instead I can say that despite this, The One Thing was an immersing read that had me sobbing by the end.
Just... give it a go - You won't have any regrets.