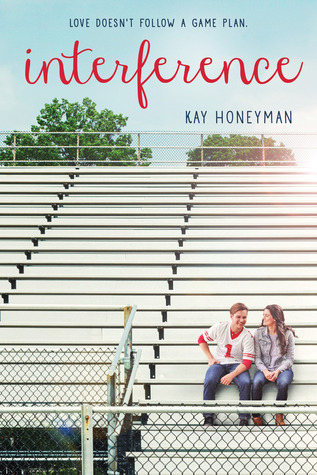 As a Congressman's daughter in Washington, DC, Kate Hamilton is good at getting what she wants -- what some people might call "interfering." But when her family moves to West Texas so her dad can run in a special election, Kate encounters some difficulties that test all her political skills. None of her matchmaking efforts go according to plan. Her father's campaign gets off to a rough start. A pro tip for moving to Texas: Don't slam the star quarterback's hand in a door. And whenever Kate messes up, the irritatingly right (and handsome) Hunter Price is there to witness it. But Kate has determination and a good heart, and with all her political savvy -- and a little clever interference -- she'll figure out what it takes to make Red Dirt home.
All I seem to have been wanting to read recently are cute, fun teen romance contemporary style books. Don't ask me why, I honestly couldn't tell you.
Anyway, they say don't judge a book by the cover, but I could tell based on the cover that this was a book that I really wanted to read (that font, those colours!), and the blurb just solidified this for me. This was not going to be a book that I was going to need to force myself to get stuck into. And yes, from the sexond I opened this book (metaphorically - I read it on my kindle) I was hooked. The voice was just so amazing, Honeyman gives this book a really relaxed, fun feel. The story is told in first person from Kate and Honeyman gives us a consistent, snarky and casual narrative voice that really fit with me.
I really loved the political side of things, it gives an intersting twist to what may have been a simple YA love story. Kate knows politics, she knows what she needs to say and what she needs to do to keep her father's campaign on track and this is a great device for showing the relationships both suffer and develop in this book. I really enjoyed reading this side.
However, my favorite bits to read were Kate's interactions with her friends and other people. Ana was one of my favorite characters (it's no coincidence that one of my best friends is called Ana, one 'n'). I loved the way she supported Kate and in return Kate tries to help Ana, though it goes off the rails a little bit. Their friendship was honest and realistic and a brilliant thing to have. Hunter though, solid, lovely Hunter - he will forever be etched on Jade's 'Book boyfriend's list). Maybe I'm getting a littttttle too old for him, but he is just so lovely and charming and his interactions with Kate were the highlight of this book for me.
Even the 'bad guys' are well written and have some kind of... understanding towards the end. A tentative start to what may be development on their side, so I think that was an especially great thing to have as well. I think this may stem from the small town kind of setting, this time and understanding I think everybody has for one another. This small town setting was like a character on it's own - as Kate began to grow accustomed and want to call it home, I did as well. I think this was probably Honeyman's aim and she executed it perrrrrfectly!
If I had to dig for negative things to say, I would point out that towards the middle of this book I did began to loose interest the teeniest bit, but that was for a very short period of time. That is really all I could say...
Overall, Interference is one of the best written, most engaging contemporary reads I have read in the last year. The characters are well written, the voice is engaging, the plot os entertaining and well researched and the setting is something special. If I could go on, I would, but I'll wrap up with this: Kay Honeyman is definitely one I will be watching out for.

Book released 27th September 2016 by Arthur A. Levine Books
Book received from the publisher/author in exchange for an honest review