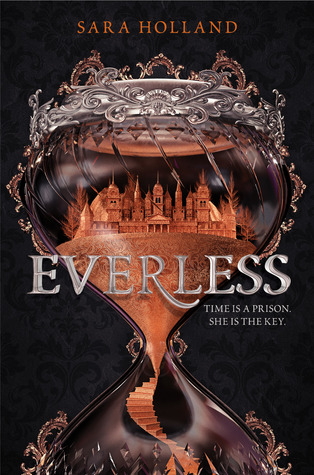 In the kingdom of Sempera, time is currency—extracted from blood, bound to iron, and consumed to add time to one's own lifespan. The rich aristocracy, like the Gerlings, tax the poor to the hilt, extending their own lives by centuries.

No one resents the Gerlings more than Jules Ember. A decade ago, she and her father were servants at Everless, the Gerlings' palatial estate, until a fateful accident forced them to flee in the dead of night. When Jules discovers that her father is dying, she knows that she must return to Everless to earn more time for him before she loses him forever.

But going back to Everless brings more danger—and temptation—than Jules could have ever imagined. Soon she's caught in a tangle of violent secrets and finds her heart torn between two people she thought she'd never see again. Her decisions have the power to change her fate—and the fate of time itself.
I hadn't realised that this was a fantasy - I thought it was a sci-fi like the movie In Time. Thankfully, this is a real life fantasy book - evil queens and lore and intrigue and mystery with a little bit of time magic thrown in.
Holland created this rich, deep world without a single infodump which is hard enough with a simple fantasy world, let alone one with this really in-depth blood currency system. I applaud her for that. That being said, when the big reveal happens towards the end of this book, there were soooo many questions left unanswered and rather than them being left open for the sequel I think they are more just... plot holes.
Like don't get me wrong, I loved the turn the plot took and hadn't even expected it - especially what it meant for the romance the book had been working towards - but some bits of it didn't make sense to me, and that sort of took away from a book which had otherwise been pretty close to perfect for me. The only other thing which detracted from the utter greatness of this book was the way that Jules didn't really seem to grieve when she lost someone very close to her in the middle of this book. She just carried on being strong and daring. I didn't feel like the grief shone through at all.
Let's step away from that, and lets talk about the things in this book that had been perfect. Friendship done right - check. Ina and Jules were great characters and I was not expecting to like Ina but I did love her. Brooding but protective prince - check. Handsome and smiley price - check. Lack of an obvious love triangle - check. Amazing writing that draws you in and makes you imagine the world in such depth that you can feel it in your bones. One massive check. Yes, this book had so much going for it.
In fact, if it hadn't been for the few drawbacks above, this would get an A+ without a second thought, but there were some things that pulled me away from that, but this still get's a pretty respectable rating:
Book released 2nd January 2018 by Harperteen
Book received from the publisher/author in exchange for an honest review