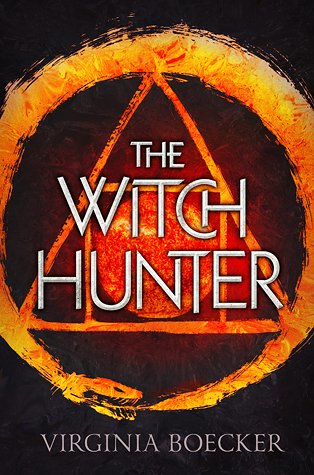 Elizabeth Grey is one of the king's best witch hunters, devoted to rooting out witchcraft and doling out justice. But when she's accused of being a witch herself, Elizabeth is arrested and sentenced to burn at the stake.

Salvation comes from a man she thought was her enemy. Nicholas Perevil, the most powerful and dangerous wizard in the kingdom, offers her a deal: he will save her from execution if she can break the deadly curse that's been laid upon him.

But Nicholas and his followers know nothing of Elizabeth's witch hunting past--if they find out, the stake will be the least of her worries. And as she's thrust into the magical world of witches, ghosts, pirates, and one all-too-handsome healer, Elizabeth is forced to redefine her ideas of right and wrong, of friends and enemies, and of love and hate.
I was expecting the majority of this book to be about Elizabeth's time as a witch hunter, but it wasn't and I liked that bit of a twist. I loved the whole storyline of Elizabeth hiding her witch hunting past from Nicholas and his groups and despite the fact that this story was actually pretty slow moving and didn't have the greatest pacing, the world and the side characters were good enough to keep me interested.

There is, admittedly, a lack of focus on world-building, which makes this word where magic is feared and hunted difficult to understand at times, but I've always been more of a how girl than a why girl, and I appreciate that maybe the world isn't developed brilliantly, but the execution saves it. The plot and the storyline makes this book much more than the world that it is set in.
My main problem with this book was Elizabeth. The main character can either make or break a book, Elizabeth wasn't bad enough for em to hate it but she definitely annoyed me quite a lot. I struggled to believe that she truly was this deadly witch hunter with hidden powers because she was catastrophically stupid at times. She made the stupidest decisions, messed up a lot and yet people still blindly followed her. That, for me, is a fatal flaw in a book. Thankfully, the well-developed romance pulled it back for me and redeemed it, there was a slight triangle but one that I saw right through. The main love story was a slow burn, which matched the rest of the book and had me just as hooked as the main storyline.

So yeah, despite flaws in pacing, characters and world building, I did quite enjoy The Witch Hunter. It's neither awful nor memorable for me, but I will be reading the sequel and that counts for something, I guess.
Book released 2nd June by Little, Brown Books for Young Readers.
Will be released in the UK September 1st by Hodder & Stoughton.
Book received from the publisher in exchange for an honest review.