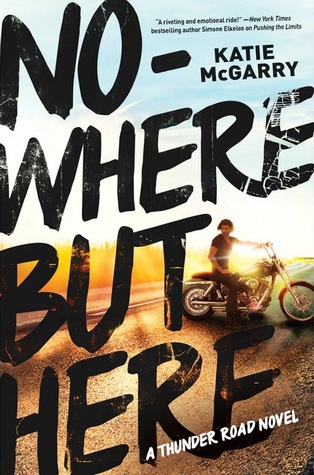 Seventeen-year-old Emily likes her life the way it is: doting parents, good friends, good school in a safe neighborhood. Sure, she's curious about her biological father—the one who chose life in a motorcycle club, the Reign of Terror, over being a parent—but that doesn't mean she wants to be a part of his world. But when a reluctant visit turns to an extended summer vacation among relatives she never knew she had, one thing becomes clear: nothing is what it seems. Not the club, not her secret-keeping father and not Oz, a guy with suck-me-in blue eyes who can help her understand them both.

Oz wants one thing: to join the Reign of Terror. They're the good guys. They protect people. They're…family. And while Emily—the gorgeous and sheltered daughter of the club's most respected member—is in town, he's gonna prove it to her. So when her father asks him to keep her safe from a rival club with a score to settle, Oz knows it's his shot at his dream. What he doesn't count on is that Emily just might turn that dream upside down.
As soon as I heard that Katie McGarry was releasing a new book - and one on motorcycle gangs at that - I thought 'this will be amazing, what could go wrong?'. The answer, apparently, is a little.
Now I'm not at all going to slate McGarry as an author, I have always loved her writing and forever will. That wasn't my problem with this book. My problem was just that I don't think the focus in this book was where it was meant to be. I wanted more on the gangs, I wanted more violence and fear and shouting and that was
there
but instead I got Oz and Em making goo--goo eyes at each other, trying to decide whether they should or shouldn't. Emily being all romantic and Oz talking about how irresistible she is. It's thee typical new adult romcom fare but I thought this book deserved more.
At the end of the book, the action does amp up a little bit, but I do just think that it was too much to say it hadn't been built up throughout the book as much as I had liked. I also felt that the whole storyline about Em's past and her mum and dad needed to be brought forward a little more, because these were the plot points that would have really made Nowhere But hHre stand out.
As it stands, it was just the better side of meh for me.
Sorry Katie McGarry, I will forever continue to read your books, but Nowhere But here isn't one of the best.