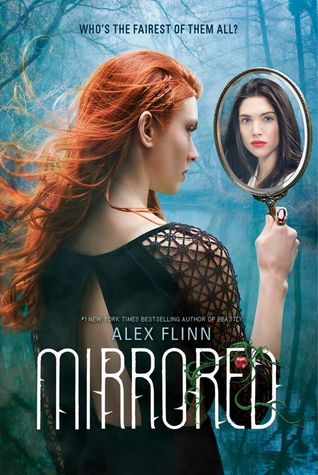 Mirror, mirror in my hand…

Beauty is the key to everything. At least, that's how it seems to Violet—ugly, bullied, and lonely. To be beautiful, in her eyes, is to have power and love. And when Kendra, the witch, teaches Violet how to use magic, she may finally get what she wants.

For Celine, beautiful since birth, her looks have been a hindrance. She discovers that beauty is also a threat—especially to her stepmother, Violet, who doesn't want anyone sharing the attention she worked so hard to get and who will do anything to be the fairest of them all.

But beauty isn't only skin deep and love isn't based on looks alone. And though Violet and Celine may seem to be completely opposite, their lives are almost… mirrored.
I've been really struggling with Alex Flinn recently - I just didn't enjoy Towering and now that I have finished Mirrored I feel let down again. Was Beastly just a fluke? I really enjoyed that book, but no other books by Flinn have really lived up to my expectation.
I just struggled to get into Mirrored - Violet's story at the start seemed completely necessary but it also dragged, I like that we got to know the characters of Violet and Greg and Jennifer, because it gave the bad guy a face and personality and a reason behind her evilness, however I just didn't feel like I connected with any of the characters at this part.
The pace did pick up a bit with Celine, the beautiful daughter of Violet's first love. At first Violet is a loving stepmother to Celine, but then things change. Celine gets beautiful and Violet is threatened, leading her to become abusive towards Celine. I really liked Celine's character, she is nice but also spunky, however her bit was too short and then the next chapter began too soon.
Goose, the narrator of the third part and I guess the love interest of Celine, was a great character. He makes up for his diminutive size with his caring personality and his heroics, but as much as I liked his character I didn't really enjoy reading from his POV - maybe it's because the pace dropped again but this last part sort of died for me.
The saving grace is the appearance of Kendra - this story gives you an idea into why she is the way she is, and also shows you a more caring, motherly side of Kendra.
Overall, Mirrored is a typical book by Flinn, with simplistic writing and a basic plot but not much else to offer. I felt disappointed by Mirrored, because whilst I finished the book, I didn't feel much after I closed it.