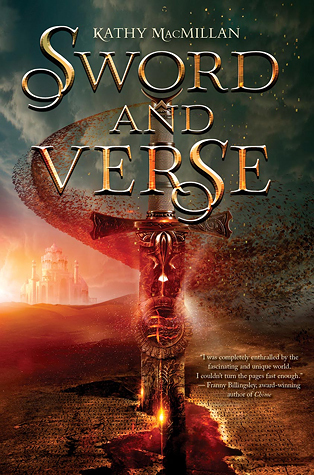 Raisa was just a child when she was sold to work as a slave in the kingdom of Qilara. Despite her young age, her father was teaching her to read and write, grooming her to take his place as a Learned One. In Qilara, the Arnathim, like Raisa, are the lowest class, and literacy is a capital offense. What's more, only the king, prince, tutor, and tutor-in-training are allowed to learn the very highest order language, the language of the gods. So when the tutor-in-training is executed for teaching slaves this sacred language, and Raisa is selected to replace her, Raisa knows any slipup on her part could mean death.

Keeping her secret is hard enough, but the romance that's been growing between her and Prince Mati isn't helping matters. Then Raisa is approached by the Resistance—an underground army of slave rebels—to help liberate Arnath slaves. She wants to free her people, but that would mean aiding a war against Mati. As Raisa struggles with what to do, she discovers a secret that the Qilarites have been hiding for centuries—one that, if uncovered, could bring the kingdom to its knees.
Sweet mother of fantasy worlds, what an amazing setting. Holy father of intelligent protagonists, thank you for giving me Raisa. Seriously, I cannot express in the English language how much I loved Sword and Verse. This, and The Imposter Queen by Sarah Fine have joint responsibility for renewing my faith in Young Adult fantasy as a genre. Sword and Verse just blew me away.
Can I just say READ IT over and over again and call that a review? No? Okay... let me just tell you why you should read it:
Sword and Verse is one of the most well-imagined, well-developed and well-executed piece of young adult literature I have read in a very long time. The world was so exquisite in the descriptions and the characters were just so well developed. The romance was infuriating in the best way possible and the action was gripping. Raisa is one of the best YA heroines I have read in so long, not only is she actually intelligent and not the naive airhead we so often get in this genre, she is also tough and sly. She does get hurt though, and I like that - she is driven and strong-willed, but she is just as vulnerable as the rest of us when it comes to heart break.
Ahhh, heartbreak... Mati! Stop breaking my heart... he was just so swoonworthy but I was so frustrated with his sometimes. You could tell that he truly cared for Raisa but at the same time he didn't always do what was best for her - the whole relationship put her at risk and he didn't seem to consider that. Still, the ending was exactly how it should have been so I can't complain.
The book is a standalone, but a sort of sequel from another character's POV is in the works and my only hope is that it wraps up a couple of the loose ends and fills the void I already feel as I don't have any other opportunities to read MacMillan's exquisite writing at the moment... just write more things, please.... quickly?
Book released 19th January 2016 by HarperTeen
Book received from the publisher/author in exchange for an honest review