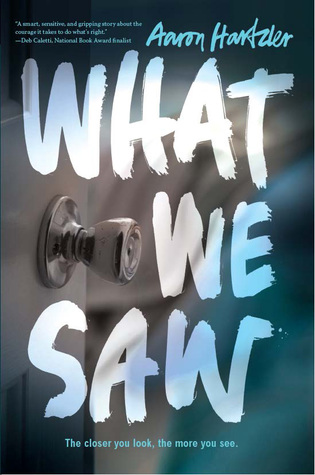 Kate Weston can piece together most of the bash at John Doone's house: shots with Stacey Stallard, Ben Cody taking her keys and getting her home early—the feeling that maybe he's becoming more than just the guy she's known since they were kids.

But when a picture of Stacey passed out over Deacon Mills's shoulder appears online the next morning, Kate suspects she doesn't have all the details. When Stacey levels charges against four of Kate's classmates, the whole town erupts into controversy. Facts that can't be ignored begin to surface, and every answer Kate finds leads back to the same question: Where was Ben when a terrible crime was committed?
There have been many books released recently which focus on sexual assault and race where he girl is blamed/branded a liar and the popular guys get away with it - What We Saw, All The Rage, Every Last Promise. Some were done well and others not so well, What We Saw doesn't quite stand up to how much I was affected by All the Rage but it still stands out in the genre.
I don't know if it's maybe because the author is a male and that makes the tone somewhat different, but this book actually affected me - it's written in a female's point of view and the descriptions of the way Stacey was treated is totally unflinching - the fact that it's seated in a real life case just makes it even more raw - this is a story about victim blaming that actually means something. This is a girl who is close to somebody who may have been involved looking for answers and doing the right thing. Kate could have been part of the victim blaming culture but she isn't, even though it may have been easier for her to.
In fact, the only reason that I am not giving this five stars is that I read All The Rage by Courtney Summers and that was just a little bit more affecting. Still, it can't be overlooked that this is a very important book, with a very important message.