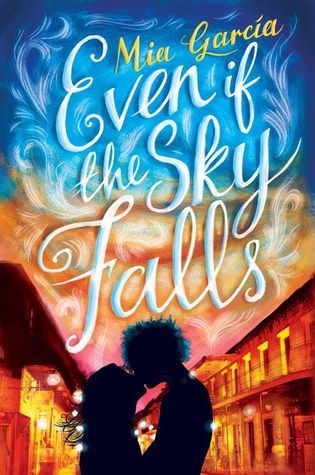 Julie is desperate for a change. So she heads to New Orleans with her youth group to rebuild houses and pretend her life isn't a total mess. But between her super-clingy team leader and her way-too-chipper companions, Julie feels more trapped than ever.

In a moment of daring, she ditches her work clothes for DIY fairy wings and heads straight into the heart of Mid-Summer Mardi Gras, where she locks eyes with Miles, an utterly irresistible guy with a complicated story of his own. And for once, Julie isn't looking back. She jumps at the chance to see the real New Orleans, and in one surreal night, they dance under the stars, share their most shameful secrets, and fall in love.

But their adventure takes an unexpected turn when an oncoming hurricane changes course. As the storm gains power and Julie is pulled back into chaos she finds pretending everything is fine is no longer an option.
I've been putting When The Sky Falls off because one night stories are hit or miss. For one part, one of my all time fave reads ever is The Statistical Probability Of Love at First Sight, which was super cute and takes place over one day, but they can also seem too shallow and over-rushed. Thankfully, and I can say this with great pleasure, When The Sky Falls clicked for me, and nothing seemed rushed or too fast - or at least the bits that did fit in with the Mardi Gras festival feel.
Now I'm not from the US and New Orleans is a place that I have only seen on TV and movies, or read about in books. I did, however, do a degree in Environmental Geography focusing on natural disasters and Katrina was a case study that I will never forget learning about. The resilient nature of the residents even through what they went to, even though other disasters pummeled at them is shown in this book and I love it for that. I also loved the history and setting encapsulated.
Julie is a great character for the most part. I wasn't keen on her actions at the start of the book - Tavis may have been annoying and she may have felt trapped but running away in another city at 16 years old is not a responsible thing to do. It didn't work for me... then again, it led to the events of the book, during which I absolutely grew to like Julia. I like the snippets of her past that show up in the book, showing us her past and what exactly she needs to escape from. The magic of the first part of the book is the carefree nature, then just like the hurricane hits and pulls Julie and Miles part, the memories hit and we realise that Julie is completely allowed to act the way she does. It's well done on Garcia's part.
The other characters, whilst not wildly well-developed were also fun. Miles was swoon-worthy, my one flaw with him is that he didn't (or I don't recall him) asking Julia's age, and his age isn't strictly stated though I think he's probably a year or two older than Julia. She talks about school, she's sixteen but they still get intimate which I think could have been played better. I still loved the character though, and his friends: Taj, Danny and Dominguez were brilliant as well.
The ending of this story really threw me - it seemed to ramp up the anxiety and tension too fast and then the book just ends - I would have liked to know how Julia and Miles were going to go from there and I would have really liked for Julia to have to face the consequences of her actions and have to face her parents. She acted out, I didn't like that we just assume it all worked out for her.
That being said, I can't deny that Even If The Sky Falls is one of the most gripping contemp reads that I have read this year, and that despite it's glaring flaws I am able to look past them and see this book for what it is - an ode to taking chances and moving on. Ugh, that was corny, but it's true. This was a brilliant read, and I definitely recommend it.