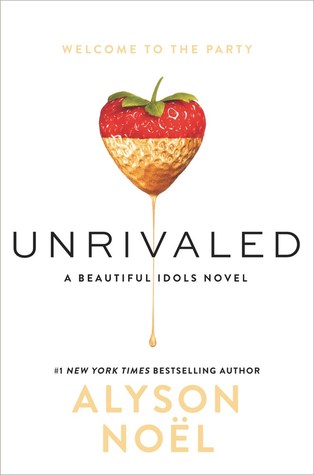 Everyone wants to be someone.

Layla Harrison wants to leave her beach-bum days for digs behind a reporter's desk. Aster Amirpour wants to scream at the next casting director who tells her "we need ethnic but not your kind of ethnic." Tommy Phillips dreams of buying a twelve-string guitar and using it to shred his way back into his famous absentee dad's life.

But Madison Brooks took destiny and made it her bitch a long time ago.

She's Hollywood's hottest starlet, and the things she did to become the name on everyone's lips are merely a stain on the pavement, ground beneath her Louboutin heel.

That is, until Layla, Aster, and Tommy find themselves with a VIP invite to the glamorous and gritty world of Los Angeles's nightlife and lured into a high-stakes competition where Madison Brooks is the target. Just as their hopes begin to gleam like stars through the California smog, Madison Brooks goes missing. . . . And all of their hopes are blacked out in the haze of their lies.
My main comment about Unrivaled is that whilst it was an interesting and fun beach red, and whilst I do want to read the second one in the series ASAP, the book felt like two parts. The first was the fun promoting parts: the crushes and the individual personalities coming together. The second was the mystery that doesn't really start until near the end, and this totally didn't seem to mesh for me.
I did really enjoy the book, that much is true. I read it next to a swimming pool under the hot summer sun and I think that was the perfect setting to read this book. The feel was really fun, really cool and not too deep and I did love all of the individual characters - Layla was my favorite to start with but she became a bit of a bitch throughout the book - I loved this element of character development. I also really liked Tommy, but I wish more had happened with him and Ira, this was something that really seemed lacking. Aster was a character which I didn't like at the start but I loved seeing her vulnerabilities towards the end. Their relationships and dialogues all seemed so natural and well written - kudos to Noel for this.
The ending was a bit of a cliffhanger which i wasn't keen on. It seemed like Noel, rather than planning this out, had just decided that she wanted to hit her next deadline and decided that was as good a place to end as any. I want to read the sequel but I feel a bit unfairly pushed into it. Maybe it's bad planning, or maybe it's good marketing.
Overall, I feel like Unrivaled was a read that left me a little torn. I enjoyed it, but I can't say it was flawless or brilliant or everyone's cup of tea. The characters and their meetings were great but the abrupt ending and the way the book didn't mesh for me detracted for this. Will I read the sequel? Yes. Can I recommend this? Maybe, as a summer read.