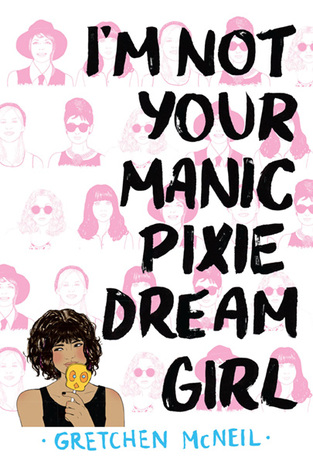 Beatrice Maria Estrella Giovannini has life all figured out. She's starting senior year at the top of her class, she's a shoo-in for a scholarship to M.I.T., and she's got a new boyfriend she's crazy about. The only problem: All through high school Bea and her best friends Spencer and Gabe have been the targets of horrific bullying.

So Bea uses her math skills to come up with The Formula, a 100% mathematically-guaranteed path to social happiness in high school. Now Gabe is on his way to becoming Student Body President, and Spencer is finally getting his art noticed. But when her boyfriend dumps her for Toile, the quirky new girl at school, Bea realizes it's time to use The Formula for herself. She'll be reinvented as the eccentric and lovable Trixie—a quintessential manic pixie dream girl—in order to win her boyfriend back and beat new-girl Toile at her own game.

Unfortunately, being a manic pixie dream girl isn't all it's cracked up to be, and "Trixie" is causing unexpected consequences for her friends. As The Formula begins to break down, can Bea find a way to reclaim her true identity, and fix everything she's messed up? Or will the casualties of her manic pixie experiment go far deeper than she could possibly imagine?
As far as I am aware, Gretchen McNeil is known for one thing - writing absolutely brilliant horror stories. Therefore, when I saw this title I was half expecting to get into it and it have some awful horror twist. It didn't - it was honestly one of the most fluffy, adorable books that I have read in a long time. It's also got some very good messages for teenage girls - oh, and a half-Filipino main character. Who by the way is awesome.
Yep, this book was great.
What makes this story so good is all of the characters that add to it. From the trio of Bea (math girl) and her understated gay friend Gabe and their artsy friend Spencer (who clearly is like madly in love with Bea), to Jesse - Bea's undecisive jerk of an ex and his new girlfriend, disturbingly perk Toile. They all make this story what it is. this isn't just Bea's personal growth, it's everyones. It was so well done, with all of the different interactions and the way everyone just responds so realistically to what is happening around them. I really can't state how much I loved the characters and their dialogue and the way McNeil wrote them.
What on the surface seems like a very superficial book is packed full of messages that I think any teen should learn. That anyone worth your time will take you for you, that people should not be judged by their cover, and that true friends will stand by no matter how nerdy/quiet/weird you really are. I seriously could have used this book at age sixteen, when I tried to make my boyfriend stay with me by trying to be his perfect girl.
The ending of this book was so well done - I absolutely loved the way everything worked out - yes, it was maybe a little corny and overly-fluffy, but it was feel good.
Overall, I'm Not Your Manic Pixie Dream Girl was a super cute and very deep read. Written with a witty voice and with a whole cast of true-to-life characters, this book should be on reading lists everywhere. Every teenage girl needs this book.