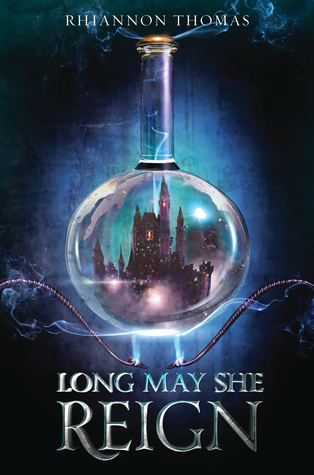 Freya was never meant be queen. Twenty third in line to the throne, she never dreamed of a life in the palace, and would much rather research in her laboratory than participate in the intrigues of court. However, when an extravagant banquet turns deadly and the king and those closest to him are poisoned, Freya suddenly finds herself on the throne.

Freya may have escaped the massacre, but she is far from safe. The nobles don't respect her, her councillors want to control her, and with the mystery of who killed the king still unsolved, Freya knows that a single mistake could cost her the kingdom – and her life.

Freya is determined to survive, and that means uncovering the murderers herself. Until then, she can't trust anyone. Not her advisors. Not the king's dashing and enigmatic illegitimate son. Not even her own father, who always wanted the best for her, but also wanted more power for himself.

As Freya's enemies close in and her loyalties are tested, she must decide if she is ready to rule and, if so, how far she is willing to go to keep the crown.
Yas. Yas Yas Yas!
I read Rhiannon Thomas' debut novel a few years ago and whilst I enjoyed it, it never blew me away.
That being said, Rhiannon Thomas is from the same city as me, and I felt a kinship in needing to read Long May She Reign when I saw it. I am so glad that I did. Freya is the fantasy MC that I have been searching for since I first met Katsa and Yelena and whilst she isn't quite there, she's almost there. She's smart and thoughtful and doesn't easily buy into the crap people are giving her and I respected that.
Yes, there was some level of convenience in the story line where something happens which conveniently leads to some kind of important discovery, but it's not glaringly obvious.
I loved the court intrigue and how that took centre stage in this book. Freya is thrown into this world and she has to navigate it with no experience. She never wanted to be queen and never thought she would need to be but here she is and she has to do the best she can, while uncovering the killer of the royal family. I loved it.
Rhiannon Thomas is slowly cementing herself to be a real heavyweight in fantasy fiction.
Book released 21st February 2017 by HarperTeen
Book received from the publisher/author in exchange for an honest review