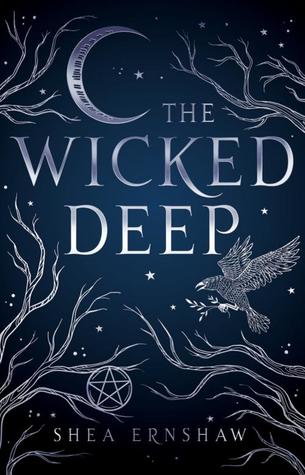 Welcome to the cursed town of Sparrow…

Where, two centuries ago, three sisters were sentenced to death for witchery. Stones were tied to their ankles and they were drowned in the deep waters surrounding the town.

Now, for a brief time each summer, the sisters return, stealing the bodies of three weak-hearted girls so that they may seek their revenge, luring boys into the harbor and pulling them under.

Like many locals, seventeen-year-old Penny Talbot has accepted the fate of the town. But this year, on the eve of the sisters' return, a boy named Bo Carter arrives; unaware of the danger he has just stumbled into.

Mistrust and lies spread quickly through the salty, rain-soaked streets. The townspeople turn against one another. Penny and Bo suspect each other of hiding secrets. And death comes swiftly to those who cannot resist the call of the sisters.

But only Penny sees what others cannot. And she will be forced to choose: save Bo, or save herself.
Oh sweet mother of revenge books. This was a killer.
I was a little nervous going into this book, mostly because it's not quite like anything I have read before so I didn't know what to expect. Maybe I went into it with no expectations at all, or maybe they were just really low but this book blew whatever expectations I had out of the water. Literally. Get it? No... okay?
Whatever, puns aside, this book was a-ma-zing.
The first thing I have to note is how amazing the worldbuilding was. This book could have been a giant infodump - there is just sooooo much history and lore to squeeze into it but it was done with so much finesse. Ms Ernshaw, I applaud you for that. A lot of it came from the writing, which was beautiful without being over the top. It created such a heavy atmosphere that even though it's the middle of a heatwave here in England, I felt like I was right there on the stormy island with Bo and Penny.
There's a twist in this book that to be honest I had already suspected, but Ernshaw took what could have been a predictable twist and added layers onto it. I knew the truth, but I never had any clue how it would pan out so that made it acceptable that I had guessed it.
That ending too... ugh. So well done. I had no clue how it would end and that sort of half closed out, but half open ending worked so well with me. It sat heavy on my heart as I turned the last page and is still there now days later.
I can't say much more about this book since I'm sure my feelings on it are abundantly clear by now. Please just pick this book up if you haven't already. It will most certainly blow you away.
Book released 6th March 2018 by Simon Pulse
Book received from the publisher/author in exchange for an honest review