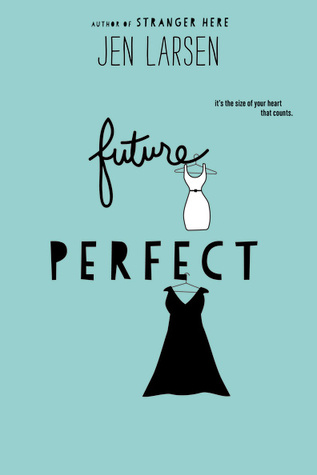 Every year on her birthday, Ashley Perkins gets a card from her grandmother—a card that always contains a promise: lose enough weight, and I will buy your happiness.

Ashley doesn't think there's anything wrong with the way she looks, but no amount of arguing can persuade her grandmother that "fat" isn't a dirty word—that Ashley is happy with her life, and her body, as it is.
But Ashley wasn't counting on having her dreams served up on a silver platter at her latest birthday party. She falters when Grandmother offers the one thing she's always wanted: tuition to attend Harvard University—in exchange for undergoing weight loss surgery.

As Ashley grapples with the choice that little white card has given her, she feels pressured by her friends, her family, even administrators at school. But what's a girl to do when the reflection in her mirror seems to bother everyone but her?

Through her indecisions and doubts, Ashley's story is a liberating one—a tale of one girl, who knows that weight is just a number, and that no one is completely perfect.
The problem with Future Perfect is that it came out around the same time as Dumplin' by Julie Murphy and I read the two books back to back. Both are about accepting yourself for who you are, but Dumplin' just stood out to me as the better one.
Ashley just wasn't the most real character to me - she didn't really stand out. Her life dream is to attend Harvard, but I didn't real see that - she judges other people easily (such as the druggies in San Francisco) despite the fact that Larson keeps trying to push the fact that she is very accepting onto us (because Ashley is clearly the most open person in the world as she has a transgender friend?).
I felt like I didn't connect with this book and I ended up skimming through it just to see if she went through with the weight loss surgery. I won't spoil how the book ends, but I am going to end this review here because there isn't a lot to say.
This book didn't put across the message it aimed for in the best way, but I don't have reason to rant about it, nor can I really say it was an awful read. I just... didn't enjoy it personally.