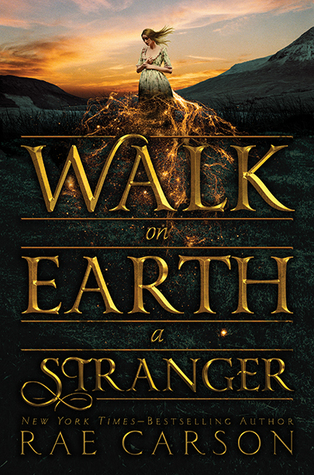 Lee Westfall has a strong, loving family. She has a home she loves and a loyal steed. She has a best friend—who might want to be something more.

She also has a secret.

Lee can sense gold in the world around her. Veins deep in the earth. Small nuggets in a stream. Even gold dust caught underneath a fingernail. She has kept her family safe and able to buy provisions, even through the harshest winters. But what would someone do to control a girl with that kind of power? A person might murder for it.

When everything Lee holds dear is ripped away, she flees west to California—where gold has just been discovered. Perhaps this will be the one place a magical girl can be herself. If she survives the journey.
Look at that cover - isn't it gorgeous? It speaks of fantasy magic, gold in every step. It speaks of a girl with a power and all of the obstacles in her way! It gave me such high expectations for this book that unfortunately were just not met. This is a pity, because I will continue to love and read Rae Carson's books, just not this series.
Lee is a girl with the power to sense gold, she comes from a good family but that is all thrown into the air when her father is assassinated - Lee becomes property of her uncle, who wants to use her as a house slave, but Lee ain't having none of that so she flees west, trying to catch up to her best friend/love interest who joined the gold rush.
The problem for me was that I never really became invested in Lee's story. She was a nice enough girl, but she was obvious and made some stupid decisions through out the story. I felt that I just didn't see enough of her interactions with people to make her likeable to me and so I didn't really care about her journey.
The story itself was nothing special - I absolutely adored the setting of the gold rush, it was so rich and lush and gorgeous and made me want to play Oregon Trail over and over again - but I felt that Carson didn't use this unique setting to her potential so I felt a little let down. The book didn't feel complete, but I just wasn't connected enough to want to pick up any future books. There was some romance, which would usually grip me, but it felt forced. There was barely any mention of Lee's abilities and that annoyed me - I feel like I was wrongfully sold his magical, rich story and instead landed something flat and boring.
Overall, Walk On Earth a Stranger just didn't strike a chord with me - we just didn't connect so I did feel let down, despite the setting being well written (Carson is a great writer, despite her plot not working for me).
Book released 22nd September 2015 by Greenwillow
Book received from the publisher/author in exchange for an honest review