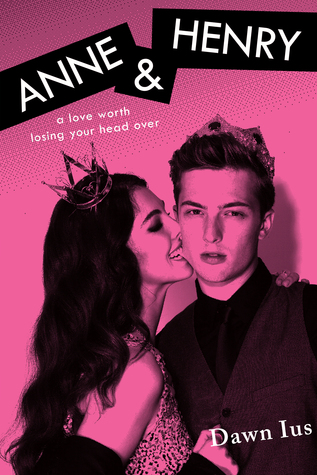 Henry Tudor's life has been mapped out since the day he was born: student body president, valedictorian, Harvard Law School, and a stunning political career just like his father's. But ever since the death of his brother, the pressure for Henry to be perfect has doubled. And now he's trapped: forbidden from pursuing a life as an artist or dating any girl who isn't Tudor-approved.

Then Anne Boleyn crashes into his life.

Wild, brash, and outspoken, Anne is everything Henry isn't allowed to be—or want. But soon Anne is all he can think about. His mother, his friends, and even his girlfriend warn him away, but his desire for Anne consumes him.

Henry is willing to do anything to be with her, but once they're together, will their romance destroy them both?
I wasn't aware of this until a short while ago, but in the announcement of this book's signing, the author described Anne as a Manic Pixie Dream Girl. Authors, please listen to me. Never use stock character descriptions to describe your characters - we want to think that we are going to be reading original characters, not some trope rewritten. Anne is no Zooey Deschanel or Ramona, she's Anne and had I read that announcement it would have turned me off this book right away. Seriously, imagine if all of the publicity about Twilight described Bella as a special snowflake Mary-Sue!
But thankfully I read this book before I learned about that and so I didn't have preconceived opinions of Anne - she was, in hindsight, a sort of manic pixie dream girl type, coming in and turning Henry's life around. Opening him up to new types of people and allowing him the chance to change his views on the world. Henry was a weak character, fickle and overly attentive of the gossip people threw around. This actually made him the perfect modern day representation of horny, fickle King Henry VIII.
I honestly can't see how Ius could have rewritten one of history's most tragic love stories any better. Every little thing related back to Queen Anne and King Henry's real life relationship and even the ending, whilst less fatal was done perfectly. As much as I wished that the ending could be happy, there clearly was no way for this to be... I think Ius dealt with it all in the best way possible - the injustice, the feelings, the judgement. It was so well done.
I would be so excited to read anything else by Dawn Ius, especially if it was in the same vein of Anne & Henry.. It didn't blow me away, but it did entertain me thoroughly.
Book received from the publisher/author in exchange for an honest review