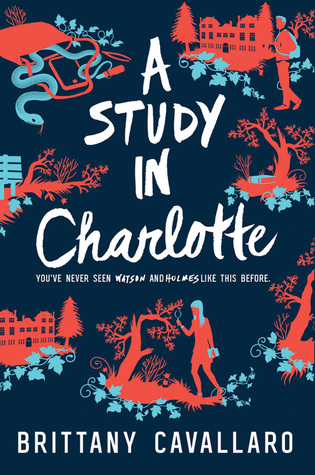 The last thing sixteen-year-old Jamie Watson–writer and great-great-grandson of the John Watson–wants is a rugby scholarship to Sherringford, a Connecticut prep school just an hour away from his estranged father. But that's not the only complication: Sherringford is also home to Charlotte Holmes, the famous detective's enigmatic, fiercely independent great-great-granddaughter, who's inherited not just his genius but also his vices, volatile temperament, and expertly hidden vulnerability. Charlotte has been the object of his fascination for as long as he can remember–but from the moment they meet, there's a tense energy between them, and they seem more destined to be rivals than anything else.

Then a Sherringford student dies under suspicious circumstances ripped straight from the most terrifying of the Holmes stories, and Jamie and Charlotte become the prime suspects. Convinced they're being framed, they must race against the police to conduct their own investigation. As danger mounts, it becomes clear that nowhere is safe and the only people they can trust are each other.
Okay, let me admit something. I did not buy into the hype for this novel. A lot - a lot - of people have been raving about this but I've never really been into the whole Sherlock Holmes thing so I never thought I would request it. Then I saw a review saying it is a brilliant book even if you aren't a Sherlock fan and I thought I'd give it a go.
I enjoyed this book infitisimal amounts more than I ever imagined I would. A Study in Charotte is tense, witty, tough and subtle in all the right ways. I thought Jamie was such a brilliant character to read about - his point of view made this book all the more enjoyable. He isn't a super tough main character though, at times he is wimpy. Like in the real Sherlock Holmes books, he comes in and saves the day numerous times and he is the common sense in the whole plan. The real main character in this book is Charlotte Holmes though - drug taking, chain smoking Charlotte Holmes who was nothing like I imagines. She is tough, but closed off. She had things happen to her before she came to Sherrington that makes her a bit damaged and I loved it. The whole relationship between her and Jamie was lovely but it was also so subtle that it doesn't take over the main mystery aspect of the whole book.
The mystery was so brilliant as well. So well executed and I was guessing the whole way through - who was the Sherrington murderer and why are they trying to frame Charlotte for it. The ending seemed so well thought through - the motive was there and I hadn't guessed the culprit but it also didn't seem forced - the signs were there through the whole book.
If I had but one gripe with this book it's that Charlotte's addiction to drugs was dealt with so badly - or more, it wasn't dealt with at all. It seems like such a big plot point that went completely ignored and I felt like this could have added a bit more depth into this book. It's the only thing that was slightly lacking.
Overall, A Study in Charlotte was a brilliant take on the Sherlock universe, where Sherlock and Holmes were real and so are their ancestors. You don't need to know that much about them though, because Charlotte and Jamie's story speaks for itself, and it does so with an amazing voice. Wow.