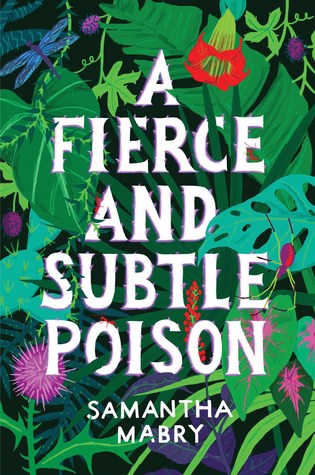 Everyone knows the legends about the cursed girl--Isabel, the one the senoras whisper about. They say she has green skin and grass for hair, and she feeds on the poisonous plants that fill her family's Caribbean island garden. Some say she can grant wishes; some say her touch can kill.

Seventeen-year-old Lucas lives on the mainland most of the year but spends summers with his hotel-developer father in Puerto Rico. He's grown up hearing stories about the cursed girl, and he wants to believe in Isabel and her magic. When letters from Isabel begin mysteriously appearing in his room the same day his new girlfriend disappears, Lucas turns to Isabel for answers--and finds himself lured into her strange and enchanted world. But time is running out for the girl filled with poison, and the more entangled Lucas becomes with Isabel, the less certain he is of escaping with his own life.
I have been gagging for this book since I first heard about it. When I was accepted for an ARC I was ecstatic and I am so happy right now to be writing this review, because it was such a brilliant book.
This book was not at all what I accepted, I was expecting something creepy and dark and this was actually not that - it was atmospheric, but not in the way that I was expecting. that sort of speculative world where magic exists but our main character is incredulous as he learns about it was brilliant. I loved Lucas as a narrator - he was an authentic male and his reactions and thoughts were so realistic. I loved it.
Isabel was also a brilliant character - she was an enigma but she was also exactly what you saw. She was a beautiful character and I loved reading about her through Lucas's thoughts. The two of them were amazing main characters, there was a hint of romance and feeling but the story was much more about the magic and the mystery. I so enjoyed it.
I'm not sure why this book didn't blow me away because it hard all of the things that should make it perfect, but something just didn't 100% click. Still, I really enjoyed it, it was brilliant.