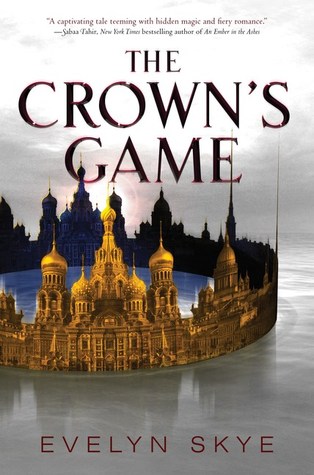 Vika Andreyeva can summon the snow and turn ash into gold. Nikolai Karimov can see through walls and conjure bridges out of thin air. They are enchanters—the only two in Russia—and with the Ottoman Empire and the Kazakhs threatening, the Tsar needs a powerful enchanter by his side.

And so he initiates the Crown's Game, an ancient duel of magical skill—the greatest test an enchanter will ever know. The victor becomes the Imperial Enchanter and the Tsar's most respected adviser. The defeated is sentenced to death.

Raised on tiny Ovchinin Island her whole life, Vika is eager for the chance to show off her talent in the grand capital of Saint Petersburg. But can she kill another enchanter—even when his magic calls to her like nothing else ever has?

For Nikolai, an orphan, the Crown's Game is the chance of a lifetime. But his deadly opponent is a force to be reckoned with—beautiful, whip smart, imaginative—and he can't stop thinking about her.

And when Pasha, Nikolai's best friend and heir to the throne, also starts to fall for the mysterious enchantress, Nikolai must defeat the girl they both love... or be killed himself.
Candidates for the best bromance of 2016: Pasha and Nikolai. Honestly, these two were the best part of this book and I just wish I could see more of them, even though that is highly unlikely.
I also thought this book was a standalone, I'm not sure how the second book can follow on in the same vein after how the book ended and that makes me feel totally sad. Now I'm not going to lie, I'd be happier if it was a standalone solely because I feel like The Crown's Game was enough - it lacked a lot of things to me and I really don't know where it can go from here... and I'm not sure if I'll even want to read a sequel.
I felt that this book was going to be very dark, with strong characters and tested loyalties a la the Grisha Trilogy, instead I feel like I got something which felt shallow. Where were the magic attacks? This crown's game is about finding the Tsar's next enchanter, to protect the kingdom. So why were Vika and Nikolai so dead set on doing little pretty things. Painting a building is one thing, but surely staging an attack on your opponent is a much better way of showing why you are the best enchanter. Ugh, and don't tell me it's because of lurrrve because I genuinely don't feel like Vika loved Nikolai. It was very shallow, I didn't feel like they really had any meaningful feelings for each other and the instalove on all parts of the love triangle pissed me off. It seemed like Skye had decided it was going to happen and just wrote it in, with no development.
I loved the world building in The Crown's Game, it's really the only thing that I did enjoy. This Russian setting with a twist on it, the magic and the colour and the nature and the balls and the royalty and everything - the explanations for why only one enchanter could be victorious, all of it just totally worked for me and I would, for this reason only, be totally willing to check out anything else this author put out.
Unfortunately though, to say that The Crown's Game was one of my most anticipated reads of this year, I have to say I feel totally let down by the execution...