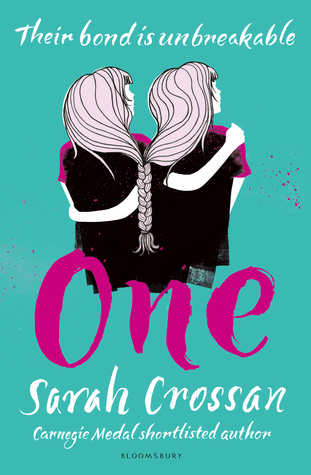 Grace and Tippi are twins – conjoined twins.

And their lives are about to change.

No longer able to afford homeschooling, they must venture into the world – a world of stares, sneers and cruelty. Will they find more than that at school? Can they find real friends? And what about love?

But what neither Grace or Tippi realises is that a heart-wrenching decision lies ahead. A decision that could tear them apart. One that will change their lives even more than they ever imagined…
I've been a little bit wary of reading
One
because the last book that I read by this author,
Breathe
is still, to this day, one of my worst memories of my time blogging. After reading some really brilliant feedback of
One
I decided to bit the bullet and give it a go. I do not regret this decision.
One is one of the most poignant and heartwrenching books I have read in a long time. Written in freeform prose, it has a really simple, breezy feel to it but the actual plot is the exact opposite of that. I have to admit that it was at times difficult to come to terms with Tippi and Grace as two separate characters as they share one body, and this was at times hard to get my head around and visualise, but they both have their own personality. Grace is the quieter one, she's more reserved. Tippi is a bit more daring, but they are both vulnerable and insecure because of who they are. When things come in that makes them question whether they really are better together and then they are pushed to make a life changing decision about their future things get really deep.
For me, this book was a quick read, but it was in no way easy. The ending of this book is somewhat predictable, but that didn't stop my heart from breaking in two when I closed my kindle. It was a beautiful, sad story about growing up and growing into yourself, with a twist on it that makes is gorgeously original and extremely touching.
One has definitely changed my mind about Sarah Crossan, and I won't think twice about reading anything she puts out in the future, because this beautiful, well written book proves that she really is an exemplary author.

Book released August 2015 by Bloomsbury Children
Book received from the publisher/author in exchange for an honest review