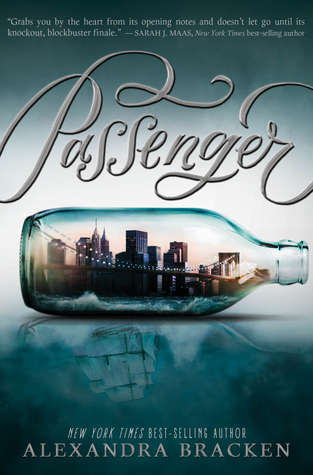 In one devastating night, violin prodigy Etta Spencer loses everything she knows and loves. Thrust into an unfamiliar world by a stranger with a dangerous agenda, Etta is certain of only one thing: she has traveled not just miles but years from home. And she's inherited a legacy she knows nothing about from a family whose existence she's never heard of. Until now.

Nicholas Carter is content with his life at sea, free from the Ironwoods—a powerful family in the colonies—and the servitude he's known at their hands. But with the arrival of an unusual passenger on his ship comes the insistent pull of the past that he can't escape and the family that won't let him go so easily. Now the Ironwoods are searching for a stolen object of untold value, one they believe only Etta, Nicholas' passenger, can find. In order to protect her, he must ensure she brings it back to them—whether she wants to or not.

Together, Etta and Nicholas embark on a perilous journey across centuries and continents, piecing together clues left behind by the traveler who will do anything to keep the object out of the Ironwoods' grasp. But as they get closer to the truth of their search, and the deadly game the Ironwoods are playing, treacherous forces threaten to separate Etta not only from Nicholas but from her path home... forever.
Passenger is a book that I think you'll either love or hate, for me it was the second, or at least the 27% that I read was.
I found the first quarter of this book just dragged for me, with very detailed descriptions of every sight, sound... the romance just dropped in instantaneously and for me the story just didn't seem to be going anywhere anytime soon. Usually, if this is the case then I will just push through until something interesting happens, but that just didn't seem likely in this case so instead I just gave up.
It's a pity because Bracken's Brightly Woven is always one of my fave books to read if I am in a slump, it's so witty and bright and exciting, but since then I haven't managed to get through a single of her books. I know she can do it, but she just isn't doing it for me these days.
Overall Rating: DNF
Book released January 2016 by Disney Hyperion
Book received from the publisher/author in exchange for an honest review