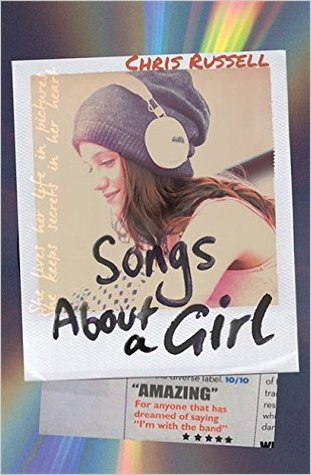 Charlie Bloom never wanted to be 'with the band'. She's happiest out of the spotlight, behind her camera, unseen and unnoticed. But when she's asked to take backstage photos for hot new boy band Fire&Lights, she can't pass up the chance.

Catapulted into a world of paparazzi and backstage bickering, Charlie soon becomes caught between gorgeous but damaged frontman, Gabriel West, and his boy-next-door bandmate Olly Samson. Then, as the boys' rivalry threatens to tear the band apart, Charlie stumbles upon a mind-blowing secret, hidden in the lyrics of their songs...
This is the music based book that I have been waiting for since I fell in love with the genre ten years ago. Audrey, Wait was the book that really got me into the genre and Songs About a Girl is the best in the genre that i have read since then.
At first, I was expecting this book to be a bit meh, I was expecting a cute summer read that I really wouldn't feel particularly attached to but this really threw my expectations out of the window. I was hooked straight away - Charlie was such a great character to read about and I love the way the book touched on a lot of other things. I was so excited from the very start and I couldn't put the book down.
The thing that really got me hooked was the mystery with regards to the lyrics, Fire&Lights are singing the actual song lyrics that Charlie has seen in her mother's old journal and she sticks around the band to find out why. Whilst I did find the initial reveal pretty underwhelming, the additional twist at the end of the book makes up for that and I think there must be a second book in the series coming out because it can't end like that.
I didn't really like Gabe, the damaged lead singer that Charlie falls for - I was much more #TeamOlly (why do I always suffer from second-lead syndrome? *sob*). Which was the only real fault that I found in this book - I think Gabe was manipulative and reminds me of a boy I used to date, it didn't end well, at all. Olly was sweet and lovely and seemed to care more for Charlie's feelings and wellbeing - he was perfect! I also wasn't the greatest fan of Charlie lying to her dad, I think a lot could have been resolved on their part of they had just like, spoken to each other.
The writing in this book was brilliant - the writing style is very modern but also readable and accessible. I love the way Russell managed to get into these different personalities, from

Charlie's dad to Aimee, the school bully, everyone was individual.
Overall, Songs About a Girl was an addictive read that I thoroughly enjoyed. Despite a few flaws, this is one that I would recommend to anyone looking for the perfect read this summer.