Today I have the please of welcoming to the blog Dalya Moon. Dalya is the author of Middle Grade book Charlie Woodchuck is a Minor Niner. you can see my review of this book here.
------------
Hi Dalya, thanks for joining us today!
Firstly, can you tell us a little about yourself?
I'm a thirty-something former graphic designer and happily married to a guy who's very supportive of my writing and artistic endeavours. I have three cats, who are not very supportive and jealously step on my computer keys, trying to delete my novels.
Now, a little about your book?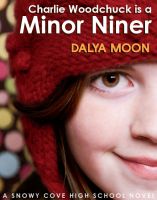 The book takes place over an entire awkward school year, Charlie's first year in
a high school that includes grades nine through twelve. She has conflict with her social group, her family, and the school's administration, but she also has a lot of fun.
Describe Charlie Woodchuck is a Minor Niner in three words?
Funny, sweet, fast-paced.
The book is set in the late 1980s, why did you choose this time period?
At the risk of dating myself, my main reason was that's when I went to high school. So, there you have it, I'm admitting I was being a tiny bit lazy.
But, the further I got with the book, the more I came up with great reasons for it being in the 80s. For one, the fashions are so hilarious. I love laughing at the clothes I wore back then: green leggings and red shoes with a patterned dress! Topped off with layers of faux pearl necklaces!
In the 80s, I was reading books set in the 60s, or earlier. I loved the Nancy Drew series, and I think it was even more interesting because of the historical setting. My dad and I travelled around to garage sales and bought up the collection, one book at a time. (Darn, I wish I still had those books!)
Did you base any of the events or characters on yourself?
The main events are all fictional. In real life, I have a younger sister, and my eyes match my parents'. Some of the small details are borrowed from my life, like being hit by a toboggan and going through a phase of wearing black all the time.
In the book Charlie takes woodworking class just to rebel, what is the most rebellious thing that you ever did?
I don't want to set a bad example, but I used to put my head on my desk and sleep during Chemistry in Grade Eleven. My marks were still okay, but I had no idea what was going on when I got to Chem Twelve, and I had to drop the course, which was too bad, because the teacher was really nice.
The book is middle grade, what are your top three middle grade reads?
As an adult, I enjoyed "When You Reach Me." As a middle-grader, I loved "The Call of the Wild" and "Heidi."
What made you want to be a writer?
I enjoy writing stories, thinking about them, and talking people's ears off about them.
Where did the inspiration from the book come from?
One day I had a very clear recollection of the feeling I'd had at about fourteen, when someone outshone me in a school play. I wasn't exactly jealous, but I felt sad to be in someone else's shadow. Actually, I suppose that is jealousy. Such an ugly emotion, but so common! I wondered what actions a fictional character might take if she felt that way about another girl in her grade.
Can you tell us in one sentence why we should buy your book?
I have a secret sales quota, and if I meet that number, I will post the photo of myself in the worst '80s outfit you can imagine.
Thank you for joining us today, is there anything you'd like to say to my readers?
Thanks for reading and supporting authors, as well as book bloggers like Jade, who make books even more fun. Sometimes when I'm down to the last few pages of a book I'm reading, it's almost unbearable how bad I want to skim ahead so I can log on to goodreads.com and other review sites and read what other people think.
Come on guys, buy the book (links below). We all wan't to see Dalya's 80's fashion faux pas, don't we!