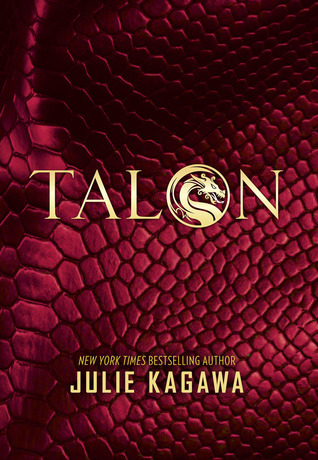 Long ago, dragons were hunted to near extinction by the Order of St. George, a legendary society of dragon slayers. Hiding in human form and growing their numbers in secret, the dragons of Talon have become strong and cunning, and they're positioned to take over the world with humans none the wiser.





Ember and Dante Hill are the only sister and brother known to dragonkind. Trained to infiltrate society, Ember wants to live the teen experience and enjoy a summer of freedom before taking her destined place in Talon. But destiny is a matter of perspective, and a rogue dragon will soon challenge everything Ember has been taught. As Ember struggles to accept her future, she and her brother are hunted by the Order of St. George.





Soldier Garret Xavier Sebastian has a mission to seek and destroy all dragons, and Talon's newest recruits in particular. But he cannot kill unless he is certain he has found his prey: and nothing is certain about Ember Hill. Faced with Ember's bravery, confidence and all-too-human desires, Garret begins to question everything that the Order has ingrained in him: and what he might be willing to give up to find the truth about dragons
So you know how the majority of the YA book world seem to absolutely worship Kagawa? I am not on of those people. Don't get me wrong, I've really enjoyed some of the books that she has put out and I would never think twice about reading something by her, but the majority of Kagawa's books have been pretty dependably average for me. I enjoyed them, but I seem to find her writing very long-winded and her plots formulaic. I can happily go into this review and say that Talon was no exception for me to this.
If anything, Talon was even more cliche than any of Kagawa's other offerings, which made me sad because this is a badass dragon book and I love dragons. In fact, if you don't like dragons leave now, because this is a dragon appreciation zone and dragons are freaking awesome. I loved the dragon-ey parts of Talon - the training, the different types of dragons in the dragon organisation. I loved the feud between the dragonkind and the St George dragon killing squad. That was all done well and to start with I thought "Yay! We have dragon badassery on our hands here!".
However it all seemed to evolve into a pile of mush when our dragon heroine Ember meets our St George hero Garrett, and then we get this twisted Mr and Mrs Smith style romance where they are both hunting each other and neither of them even know it. That's all well and good because our (super special) heroine and (perfect, but hiding something) hero have yet another challenge to overcome! The inevitable third part of the cliche love triangle, Riley - the bad boy dragon who wants Ember for his own means...
Every part of the description about Riley seems to focus on his bad boy attitude and his smouldering eyes and ain't nobody got time for that! I came her for fragon badassery! Not 'supernatural being has to fit into normal teenage life and meets a guy who she has to hide secret from and meets other guy who knows more than he should' Ya-ery. If I want something like that I can go somewhere else. I shouldn't get that in a book by one of the most appreciated authors in Young Adult fiction!
As always, I did enjoy Kagawa's writing. it is witty and clever and she knows how to write engaging dialogue and fantastic characters. That being said, if the general plot was as engaging as that dialogue, this would be getting a much higher rating. Sorry Julie.
Book released 28th October 2014 by Harlequin Teen
Book received from the publisher in exchange for an honest review