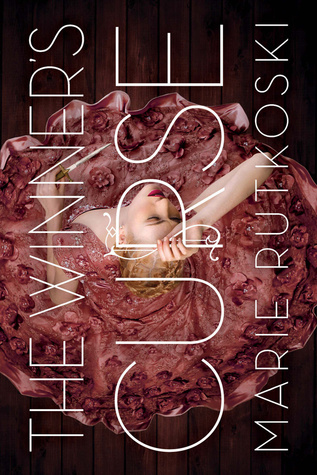 Winning what you want may cost you everything you love

As a general's daughter in a vast empire that revels in war and enslaves those it conquers, seventeen-year-old Kestrel has two choices: she can join the military or get married. But Kestrel has other intentions.

One day, she is startled to find a kindred spirit in a young slave up for auction. Arin's eyes seem to defy everything and everyone. Following her instinct, Kestrel buys him—with unexpected consequences. It's not long before she has to hide her growing love for Arin.

But he, too, has a secret, and Kestrel quickly learns that the price she paid for a fellow human is much higher than she ever could have imagined.
It is so very rare for me to finish a book and immediately want to read the second in the series. Usually I like to switch between series and genres, but as soon as I finished The Winner's Curse I immediately started The Winner's Crime, which I got as an eGalley from NetGalley a few days ago. It's weird, because I hadn't actually had massive expectations. I had been let down by The Shadow Society, Rutkoski's last YA offering, and overlooked this one for a while.
I nearly made a serious mistake.
Honestly it is so rare for me to love a book as much as I loved The Winner's Curse. Don't be nervous because of the girly dressy cover because Kestrel was an amazing character. She isn't the world's best fighter, but she is sly and tactical and wow, she was just a fantastic character to follow. Arin was also amazing, because he wasn't the typical doting YA man, he has his own agenda, he is almost a bad guy and the end gave me such mixed feels because of what he does and how ruthless he is. That being said, I loved the two of them together and I really feel like this is the start of a romance which is neither predictable or one hundred percent good. I cannot wait to read more about them.
The story gripped me pretty quickly. Despite the slow start, the writing was so good that I read on and it really did pick up soon. The political side of things could have used more expansion, however when books get too political I tend to lose interest so it worked for me.
Ugh I could gush and gush, because that's what I feel like doing. But my time could be spent doing much better things, like reading the second book RIGHT NOW.
Guys, seriously. This may be one of the best books I will read this year, you can quote me on that.
Overall Rating: A+
Book released 3rd July 2015 by Bloomsbury UK