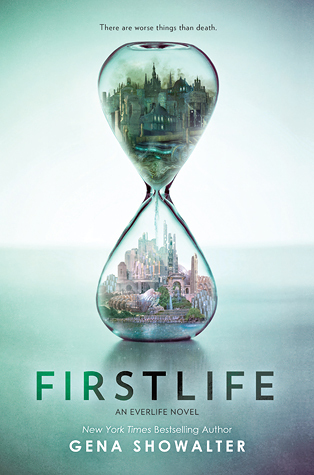 Tenley "Ten" Lockwood is an average seventeen-year-old girl…who has spent the past thirteen months locked inside the Prynne Asylum. The reason? Not her obsession with numbers, but her refusal to let her parents choose where she'll live—after she dies.

There is an eternal truth most of the world has come to accept: Firstlife is merely a dress rehearsal, and real life begins after death.

In the Everlife, two realms are in power: Troika and Myriad, longtime enemies and deadly rivals. Both will do anything to recruit Ten, including sending their top Laborers to lure her to their side. Soon, Ten finds herself on the run, caught in a wild tug-of-war between the two realms who will do anything to win the right to her soul. Who can she trust? And what if the realm she's drawn to isn't home to the boy she's falling for? She just has to stay alive long enough to make a decision…
I know that a lot of people are raving about Firstlife so I feel like my low opinion may actually come as a shock to many, but in my opinion Firstlife was 150 pages too long and comes in as one of the most dragging, slow books that I have read in such a long time. Which is super sad because this was actually my WoW pick a few months ago.

From the first page, I think I knew that this book wasn't going to work for me. The world is confusing, but Showalter tries to fix this by throwing a full on infodump at the reader - this just left me with even more of a headache than the confusing setting had already given me. On top of that, I just couldn't like Ten, which is a problem with a main character... she was shallow and selfish and indecisive without so much of an inkling of an idea why she was this way. She just was. As much as that annoyed me, what really annoyed me was the whole chosen one aspect where Ten is in demand and special. I have no idea why. This is the girl who can't choose a boy, or a world.
I bet she would be a nightmare to actually spend time with.
The boys, Killian and Archer, are kind of like the devil and the angel on Ten's shoulder. I disliked both of them, mainly because through Ten's eyes the only thing she thinks is how hot they are.
I've been a fan of Showalter's other books, and at times he standard great writing comes through. For me though, Firstlife was a failure at executing a pretty good idea. This book was difficult to finish and actually threw me back into a reading slump.
Book released 23rd February by harlequin teen
Book received from the publisher (via Edelweiss) in exchange for an honest review.