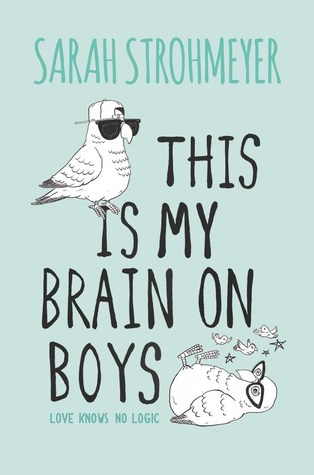 Addie Emerson doesn't believe in love. Not for herself anyway. With one year left of high school, she's more interested in snagging a full scholarship to Harvard than a full-time boyfriend.

That doesn't mean she's oblivious to the ways of the heart. Or, rather, the head. Because after months of research, Addie has discovered how to make anyone fall in love. All you need is the secret formula.

But will her discovery be enough to win the coveted Athenian Award and all its perks? (See above, full scholarship to Harvard.) Or will she be undone by Dexter, her backstabbing lab partner, who is determined to deep-six her experiments at their exclusive private school?

Those are the least of her problems now that she's survived a death-defying flight with a mysterious, dark-haired boy, who has delicious chocolate-brown eyes and a few secrets of his own.

With an experiment to mastermind, an infatuated exchange student on her hands, and at least one great white shark (more on that later), can Addie's prefrontal cortex outwit her heart? Or will she have to give in to her amygdala and find out, once and for all, if this thing called love is more than just her brain on drugs?
From the very first sentence in this book I knew it was going to be super cute, super fun read, and I was right.
I loved Addie in this book, she was such a fun character to read about. She was like Sheldon from
The Big Bang Theory
meets Temperance Brennan from
Bones
. I love both of those characters, so reading about their teenage equivalent was super fun. Yes, Addie was super frustrating at times, but she was still fun and cute in a clueless, highly logical way. I also loved Dex, the love interest. i loved the way he bounced off Addie's literalness and took it in his stride. For the same reason, I also loved her best friend Tess and Tess's boyfriend. I loved how protective they were over Addie despite not quite understanding her most of the time.
As well as that I really enjoyed the background stories, I loved Dex and Kara's story going on in the background, and the way everything escalated between Addie and Dex and the little (predictable) twist at the end.
That being said, I felt that the way everything developed was very unbelievable and zany - I liked it but it still doesn't take away from the fact that Addie pretty much used people. It was a little frustrating and took away from the whole thing.
Overall, This Is My Brain on Boys was a super-cute and fune time-killer, but I didn't feel that it really was that memorable or meaningful. Still, a cute book if you like zany reads like this,