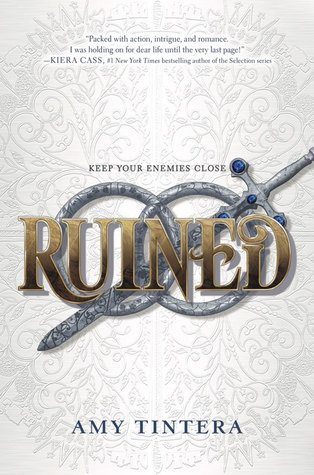 A revenge that will consume her. A love that will ruin her.

Emelina Flores has nothing. Her home in Ruina has been ravaged by war. She lacks the powers of her fellow Ruined. Worst of all, she witnessed her parents' brutal murders and watched helplessly as her sister, Olivia, was kidnapped.

But because Em has nothing, she has nothing to lose. Driven by a blind desire for revenge, Em sets off on a dangerous journey to the enemy kingdom of Lera. Somewhere within Lera's borders, Em hopes to find Olivia. But in order to find her, Em must infiltrate the royal family.

In a brilliant, elaborate plan of deception and murder, Em marries Prince Casimir, next in line to take Lera's throne. If anyone in Lera discovers Em is not Casimir's true betrothed, Em will be executed on the spot. But it's the only way to salvage Em's kingdom and what is left of her family.

Em is determined to succeed, but the closer she gets to the prince, the more she questions her mission. Em's rage-filled heart begins to soften. But with her life—and her family—on the line, love could be Em's deadliest mistake.
I'm not sure where to start with Ruined... is it the brilliant world building? The fantastic characters or the slow burn romance? I don't really know how to start this review, because this book had so many brilliant things about it that I feel like I have so much to squeeze into this review, and I generally like to keep my reviews pretty concise.
I loved Reboot by Amy Tintera (review here) and Ruined didn't exactly live up to that level of enjoyment, but it was still a bleeding brilliant book. I loved how our protagonist is kicking ass from the first page. I immediately knew that I was going to adore Em, and I absolutely did. She was a girl on a mission and at the beginning she wasn't going to let anyone get in her way, which made for some awesome scenes of character development and internal conflict when she begins to get to know the handsome prince (Cas) that she aims to kill in revenge for the slaying of her people and the kidnapping of her sister. Em and Cas has a slow burning romance that really worked for me and that also made me happy. I did find that in scenes later in the book Cas became more of a loyal puppy than someone with his land's best interests at heart, he lacked personality and conviction but thankfully Em has enough for the both of them.
What really stood out to me was the fact that Em is a squib. She comes from the royal line of Ruina, a country who's inhabitants wield strong magic, but Em herself has no grasp of this magic. Her strength comes from inside and she doesn't let her lack of power hold her back. She was a character that I genuinely rooted for, despite a few silly mistakes.
Yes, this book does have mistakes. I felt that at times the humour was a bit too much and ruined the darker vibe of the book. Not every YA character has to be witty all the time, especially when an author is trying to make us feel serious about something. As well as that, I felt that the first half of the book was a lot stronger than the second half. I liked Em infiltrating the castle, but came to dislike the whole running through the woods part in the second half. That being said, the whole book was gripping.
Overall, Ruined was a strong book with an amazing heroine and a gripping story. I loved everything about the romance and the characters in this book.
Book released 3rd May 2016 by HarperTeen
Book received from the publisher/author in exchange for an honest review